Hoa anh đào được cho là loài hoa tinh túy tượng trưng cho sự xuất hiện của mùa xuân. Những bông hoa màu hồng nhạt và trắng này trông giống như những đám mây màu kẹo có thể biến ngay cả những nơi u ám nhất thành một cảnh tượng tuyệt đẹp. Trên hết là một mùi hương nhẹ nhàng, tinh tế mang lại cảm giác bình tĩnh và lạc quan. Có gì ngạc nhiên khi có vô số lễ hội trên khắp thế giới chào đón sự hiện diện của nó?
Đối với những người sống ở các quốc gia không có loài hoa này, việc lên kế hoạch cho một chuyến đi đến những nơi tốt nhất để ngắm hoa anh đào có thể trở nên khó khăn. Các dự báo không chỉ thay đổi khá thường xuyên mà còn chỉ kéo dài trong khoảng hai tuần (trong điều kiện lý tưởng). Tuy nhiên, chính khía cạnh thoáng qua này khiến trải nghiệm trở nên đáng để theo đuổi hơn.
Ngoài những địa điểm được nhiều người yêu thích thông thường — đó là Nhật Bản và Hàn Quốc — còn có nhiều điểm đến khác mà bạn có thể khám phá những kỳ quan thiên nhiên này. Do đó, chúng tôi đã tổng hợp thêm nhiều địa điểm có hoa anh đào nổi tiếng trên toàn cầu.
Những nơi tốt nhất để ngắm hoa anh đào ở Châu Á-Thái Bình Dương
1. Yangmingshan National Park – Đài Loan
Next time you're in Taipei between February and March, you might want to maximise your trip with a day tour to Yangmingshan National Park. There, you'll find a serene sea of various cherry blossoms variants, decorating the vast hiking trails. It's certainly a welcome respite from the bustling streets and bright city lights. And the best part? It's only about a 40-minute bus ride from downtown Taipei! 
2. Taichung, Đài Loan
Head over to the city of Taichung in central Taiwan for countless awe-inspiring attractions. Beyond the charming Rainbow Village, you can check out more vibrant sights at Wuling Farm, which has more than 700 hectares of tea plantations, flower fields, and more. Not to mention, this highland spot is home to over 30,000 cherry trees! Among its highlights would be the Pink Lady: a unique hybrid of Taiwanese and Japanese cherries that you can only find here.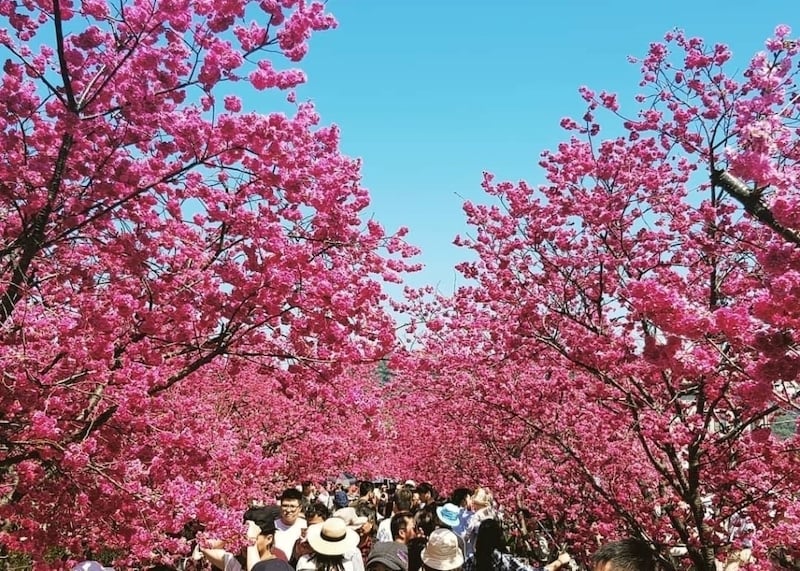 Tai-an Police Station is another one of Taichung's best cherry blossoms locations. Situated in Houli District, it features a 200-metre-long road lined with the yaezakura: a type of cherry blossom that has more than five petals and double layers. Is it even any wonder that some have dubbed it the "country's loveliest precinct"? A rather odd-sounding moniker, but we totally get it! The ideal time to visit both of these places would be from February to March. 
3. Chiang Mai – Thailand
The Land of Smiles is also one of the best places to see cherry blossoms in Asia. Make your way up north to Chiang Mai Province, where delightful pink blooms thrive in the chilly climate between late December and February. In Doi Suthep-Pui National Park, you'll see the spectacular wild Himalayan cherries (or Tiger Queen, as nicknamed by locals). These are specifically found in Ban Khun Chang Khian, a Hmong village with an agricultural research centre run by Chiang Mai University. The planting of these trees was an initiative by the facility to draw more visitors in… and it clearly worked! 
Meanwhile, Doi Inthanon National Park houses a similar facility that is the Khun Wang Royal Agricultural Research Centre. Stroll along a pathway surrounded by cherry trees mingling with the lush scenery. It's also located near the top of Doi Inthanon, aka the highest peak in all of Thailand! 
4. Da Lat – Vietnam
Beyond the hustle and bustle of Vietnam's more famous metropolitan areas lies Da Lat, the capital of Lam Dong province. It's nicknamed the City of Thousand Flowers for its abundance of floral wonders, thanks to its chilly mountain climate. And yes, that includes cherry blossoms, which one can enjoy between late December and February.
Many locals would say that the area around Xuan Huong Lake is the best place for cherry blossoms in Da Lat. It's right in the heart of the city, so getting here via public transport should be quite convenient. Every spring, the lakeside undergoes a stunning transformation as the minh anh dao (a special type of cherry blossom tree) start to bloom and turn the city pink.
5. Singapore
With its year-round warm and humid weather, Singapore is perhaps the most unexpected destination for cherry blossoms in Asia. Yet those in the know would make a beeline for the iconic Gardens by the Bay for the annual sakura display, which usually begins in mid-March. During this time, the Flower Dome showcases numerous varieties of cherry blossoms in whites, pale pinks, and deep rosy hues. Topping it all off are themed decorations based on Japanese traditional and pop culture — making one feel like they've been transported to the Land of the Rising Sun! 
6. Auckland – New Zealand
Unlike most places with cherry blossoms, Auckland experiences the peak of these blush-coloured blooms around September. Cornwall Park is a popular go-to, especially since it's quite the urban oasis. There's a spot (pictured above) near Pōhutukawa Drive that features the largest collection in the area. Sounds like a lovely setting for a lazy picnic, yes?
Another top pick would be the Auckland Botanic Gardens, nestled in the multi-cultural Manurewa neighbourhood. Also, is it just us, or is this view somewhat reminiscent of the opening credits in the show, Bridgerton? (You know, the one with a lone tree in the middle of a meadow). 
7. Shillong – India
India is among the few places in Asia with cherry blossoms in autumn. You'll spot most of these in the Indian Himalayan Region, where the proximity to the alpine climate allows for these flowers to festoon the landscape. Your best bet would be Shillong, a famous hill station that looks especially stunning from late October till November! 
Enjoy bright shades of pink juxtaposed with fall foliage; surely, a combo that's hard to find elsewhere. While this sight is prevalent around Shillong during that season, we recommend visiting Ward's Lake (or Nan Polok, as the locals call it).
Where to find cherry blossoms in the Americas
8. Washington, D.C. – United States
Back in March 1912, the Mayor Yukio Ozaki of Tokyo gifted Japanese cherry trees to the American capital. Now, the city hosts an annual festival to commemorate this diplomatic gesture that took place on the banks of the Tidal Basin. It's no doubt an iconic spot for sakura sighting, given that the area is home to nearly 4,000 cherry trees! Adjacent to it is the historic National Mall, so it's often packed with visitors, especially in the spring.  
That said, most locals would prefer strolling through the less touristy Dumbarton Oaks, where the crowds are certainly fewer. This home-turned-public museum sits on the highest point of the Georgetown neighbourhood and spans more than 50 acres of manicured grounds. The best time to visit both of these is typically around late March to early April. 
9. New York City – United States
For most travellers, a vacation to 'Murica wouldn't be complete without visiting the City That Never Sleeps. Beyond the wondrous skyscrapers and vibrant streets, it's also home to scenic parks where you can take a breather from the frenetic urban energy. For starters, there's the famous Central Park and its plentiful cherry blossoms locations. Another option in good ol' Manhattan would be Sakura Park. Located in the Morningside Heights neighbourhood, it features 2,000 cherry trees that were also a gift from Japan in 1912. 
There's also the Brooklyn Botanic Garden, which has over a dozen cherry blossom species; including the Kanzan variant planted along the aptly named Cherry Esplanade. Meanwhile, in Queens, we recommend Flushing Meadows–Corona Park. Fun fact: Its Okame cherry trees are often the first to bloom in the city
10. Portland – United States
Of course, the East Coast isn't the only place where you can find cherry blossoms in America. The Pacific Northwest also has a brag-worthy roster, especially those in Portland, Oregon. For the best seats in the house (or city, rather) — as far as feeling like you're experiencing hanami in Japan — look no further than Portland Japanese Garden. Tucked in the hills of Washington Park, its delicate Yoshino and Weeping Cherry trees are meticulously arranged throughout the space, similar to a traditional garden. It also has a Japanese-style cafe where you can enjoy tea and mochi!
You can also opt for the Japanese American Historical Plaza in Waterfront Park. It has 100 Akebono trees set against a panorama of the Willamette River and the skyline, making it a popular photo shoot location for locals and tourists alike. It was built in honour of the Japanese Americans who suffered discrimination and were sent to internment camps during World War II. That said, do take the time to explore the rest of the plaza, and read the inscribed poems describing their tragic experience. 
11. Vancouver – Canada
If you're already in Pacific Northwest, why not head further up to the Canadian part for even more cherry blossom locations? In the 1930s, the cities of Yokohama and Kobe gave Vancouver its first 500 sakura trees, as a token of gratitude to the Japanese Canadians who fought in World War I. And yes, you can appreciate these very same trees in VanDusen Botanical Garden. 
Other prime spots include Queen Elizabeth Park, Stanley Park, and Burrard Skytrain Station. Although, with over 40,000 cherry trees scattered across the city, it certainly wouldn't be hard to find a gorgeous backdrop for those dreamy pink-filled snapshots. In most years, the best time to visit would be throughout April. 
12. Curitiba – Brazil
Some of you might know that Brazil has the largest Japanese population outside of Japan. For the benefit of those who don't, here's a quick history lesson: Thousands of Japanese migrant workers moved there in the early 1900s. This was due to a treaty between the two nations, partially in response to the labour shortage in Brazilian coffee plantations.
Of course, these immigrants brought a piece of home with them — the (arguably) best one being sakura seedlings! While there are countless places with cherry blossoms throughout the country, the most epic displays are in the city of Curitiba; specifically in Jardim Botânico, Parque Tanguá, and Praça do Japão. Just keep in mind that, unlike most countries, these flowers bloom mostly in July… which is actually wintertime in Brazil! Pretty fascinating, right?
Best places to see cherry blossoms in Europe
13. Bonn – Germany
Bonn is primarily famous for being the birthplace of Beethoven, as well as the former capital of West Germany. Nowadays, travellers flock there in spring (typically April) to fulfil their dreams of walking under majestic canopies of sakura. Picture charming streets lined with pastel houses and cherry trees that form natural flower tunnels. Definitely, a scene that looks straight out of a fairy tale! 
You'll find several of these in the city's Altstadt (Old Town). The area is mostly pedestrianised, so you can easily go around without worry. Make a beeline for the crowd-favourite cherry blossom-covered streets, Heerstrasse and Breite Strasse. The latter also happens to be right by the entrance — you'll know it when you see a blue sign that says "Altstadt". 
14. London, England
Say hello to the land of royalty, big red buses… and some of the most stunning gardens you'll come across! Hence, it's no surprise that London is also an ideal city to visit for cherry blossoms locations. To start off, we have Kew Gardens, aka the largest botanical garden in the world. Its very own Cherry Walk hosts a variety of sakura trees, complete with species labels that any horticulture enthusiast would appreciate. 
Another would be the neighbouring Primrose Hill and Regent's Park, which look straight out of a romantic period drama! So, go ahead and promenade along its perfectly manicured lawns — the dainty parasols are optional. Meanwhile, Glasshouse Street in the ever-buzzing Soho district is your best bet for gazing at these bright pink flowers in a more urban setting. 
15. Paris – France
Through the years, scores of travellers have dubbed Paris the most romantic city on Earth. That said, no list of best places to see cherry blossoms would be complete without mentioning this dazzling metropolis. For the full touristy experience, we recommend Parc du Champ-de-Mars and Jardins du Trocadéro, which stand on opposite sides of the Seine. Both serve up prime views of the Eiffel Tower, so it doesn't get any more Parisian than that. 
Afterwards, make your way to the Latin Quarter to witness more spectacular displays — this time, at the Jardin des Plantes. Its springtime centrepiece is the "giant" old cherry tree (supposedly the largest in the city!), whose boughs are brimming with pink blooms and nearly touching the ground. Aside from that, the park also has a Shirotae cherry tree, which features dominantly white flowers… and tends to be less crowded than the former. 
16. Jerte Valley – Spain
Tucked away in the Extremadura region that borders Portugal is Jerte Valley: a hidden gem in the Spanish countryside. It's home to nearly two million cherry trees, most of which are grown the traditional way — that is, on the mountain slopes. From late March to mid-April, the hills and gorges are blanketed in white cherry blossoms that go as far as the eye can see. 
Make the most out of your trip by exploring all 11 villages in Jerte Valley. It's quite the scenic drive that springtime dreams are made of! 
17. Bern – Switzerland
How about a panorama of Bern's Old City framed by a gorgeous canopy of cotton candy-esque blooms? Such is the scenery that awaits you in the Rosengarten (Rose Garden), a hilltop park dating back to the 1700s. For optimal cherry blossom sighting, we recommend coming here between late March and April. 
The cherry blossom trees in the Rosengarten are of the Yoshino variety. These were a gift from Yoshiyuki Urata, a Japanese farmer and beekeeper who moved to Switzerland in the 1960s to study agriculture. Apart from these, the park also features plenty of spots to while away a sunny spring afternoon; from the pavilion and reading garden to its very own restaurant. 
18. Stockholm – Sweden
Stockholm might be better known for its avant-garde architecture and cultural attractions, but it also boasts floral-filled sights come springtime. You'll find some of the most vivid spectacles in the Kungsträdgården (King's Garden). Located in the lively Norrmalm district, this spacious park brims with terrace cafes, art galleries, and outdoor events. 
Similar to other places with cherry blossoms in Europe, it's best to visit from late March to mid-April. During this period, locals and tourists alike flock to the Kungsträdgården as it transforms into a stunning sea of pastel pink. For the full experience, why not have a fika (Swedish term for "coffee and cake break") along the avenue lined with over 60 cherry blossom trees?